Business Class High Storage Email
For users with high email volume and higher storage requirements
Email Productivity -
Hosting not required
$1.95/month per account!
Best for users with high email volume, higher storage requirements and those that want the added security of email encryption, daily backups and a 14 day recovery of deleted email. Your storage is devoted entirely to your email unlike Google Apps which also deducts from your allowed storage for other apps they make you pay for.
Core Features

Secure POP/IMAP connection




Custom mailboxes




25GB mailboxes




Premium Anti-Spam & Anti-Virus




Works with Hosted Exchange

Outlook Auto-Setup




Encryption




Daily backups




50MB attachments




Custom email filtering

User aliases




Domain Aliases




Active Directory




Customized webmail sites




Anywhere, anytime access

Robust email client




Shared calendars




Shared contacts




Mobile Sync




Notes & tasks



Mobile Mail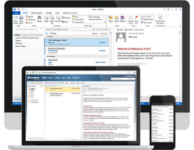 You can access your Email account via POP or IMAP on your smartphone, tablet, or mobile device, using your device's native email application. Use your mobile phone or tablet to send and receive email from any POP or IMAP connection. Choose from 2 options:
Mobile Sync
Enjoy real-time sync of email, calendars, and contacts on your iPhone®, iPad®, Android® or Windows® device. Built on Microsoft's ActiveSync protocol, our mobile sync service uses push technology to sync the following data instantly:
Mail and folders
Contacts
Calendar
Monthly Fee: $1 per user
You can add Mobile Sync for High Storage Webmail for individual users (or your entire domain) via your Email & Apps Control Panel.
Webmail Mobile Site
Log into your Rackspace Email account from any smartphone or mobile device using our optimized mobile site. Access Webmail mobile from your mobile phone at

apps.rackspace.com/mobile

.

Webmail mobile gives you access to:
Mail and folders
Contacts
Calendar
Tasks
Notes